Previous developments
Westminster Rise – Summerhill, LL11 4QE
Westminster Rise, off Celtic Road, Summerhill was a small select brownfield development of just 24 starter and family homes. Westminster Rise was a fascinating site in many ways; there were a number of technical hurdles to overcome including excavating rock to form the foundations, the capping of a mineshaft (there are many throughout Wrexham), and the demolition of a ventilation shaft 2.0m in diameter, of a depth of 4.0m below ground level that ran across the site which used to ventilate the number 1 shaft of the Westminster Colliery.

Westminster Rise was one of the many victims of the banking crisis/credit crunch, we did want to start this development in 2008, but due to our banks withdrawing support we were unable to start until 2012. This site proved very popular and was completed in 2013.


Please click an image below to enlarge:
Greenbank Court - Wrexham, LL13 8DX
Greenbank Court is an urban scheme on the edge of Wrexham Town Centre conveniently located within a short walk of the very impressive Eagles Meadow Retail Development. Greenbank Court is another brownfield site, formerly an old gas works site now transformed into thirty one 1, 2, 3 & 4 bedroomed town houses all with generous gardens.

Greenbank Court sold out in a matter of months and was extremely popular with both owner occupiers and investors, many of whom having bought from us previously.

In partnership with Wales & West Housing Association and Tai Clwyd Housing Association 8 of the properties were affordable homes for rent, which enabled 8 local families to access new rental properties which otherwise would have been out of their reach.

This site was completed in Spring 2012.

Orchard Rise – Acrefair, LL14 35E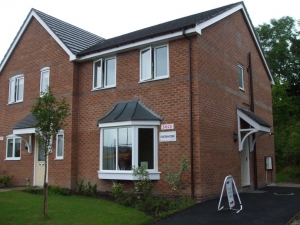 Orchard Rise is located just off Llangollen Road, Acrefair, near Llangollen. It comprises of twenty traditional 3-4 bedroom family houses using our most popular designs and was recently completed in the spring of 2011. Orchard rise is located on land purchased from the Wrexham Council which used to be part of the Acrefair CP school site and immediately to the rear of the site is the old trackbed of the Llangollen to Wrexham Railway which was dismantled in the 1970s.
Victoria Gardens – Wrexham, LL11 1EF
Victoria Gardens, off Gerald Street in Wrexham is a very interesting site in many ways. It was completed in the spring of 2010 and comprises of twenty two family houses, built in the style of Grand Victorian terraces which are prevalent in this part of Wrexham. Victoria Gardens is well located, just 5 minutes walk away from the town centre, also immediately adjacent to the historic Wrexham General station, Grosvenor road and Wrexham's Business district.
The most interesting feature of the site is the pond, or better known locally as the Witches Pool, it was rumoured in Medieval time that local woman suspected of being witches were tested out at this pool; if they remained afloat this confirmed that they were a witch and if they sank and drowned they were deemed to be not a witch, which was a little too late!
We worked very closely with Wrexham Council's Ecologists and Tree office to preserve and enhance the pond before and during the Construction phase as well as protecting and enhancing the mature trees on site, some of which include very impressive and rare species.
Another interesting feature of the scheme was that we encountered substantial opposition to development from a very small group of six to eight local residents. There were features on the Welsh news and over sixty letters of objection published in the local newspaper and even our eminent local MP PR John Marek (who normally exercises sound judgement) spoke out publically against our proposals. The main aim of the action groups was to'save the witches pond' which was odd because that was precisely our number one aim!
Visitors to the site now must wonder what all the fuss was about, as the site is extremely tranquil, the trees have been protected and the pond enhanced and is now open to the general public to enjoy for the first time in decades.
Rivulife – Wrexham, LL13 8PQ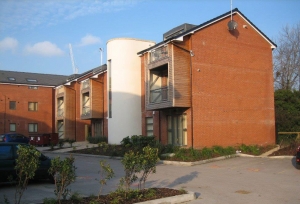 Bentley Place off Rivulet Road in Wrexham is a very contemporary apartment scheme which is just a seven minute walk from the Eagles Meadow complex and the town centre. It is similar in concept and is also modelled on our 2003 Rossall Court Scheme. Rivulife proved to be a very challenging site as it was previously used as a scrap yard with the River Gwenfro forming one of the boundaries. The site has now been transformed into a quirky development comprising of forty eight apartments, mainly 2 bedrooms.
Rivulife proved to be very popular with local investors and owner occupants, its close proximity to the town centre ensures considerable rental interest, at times with waiting lists building up. Rivulife was completed in 2008.
Lower Dee Mill – Llangollen, LL20 8RQ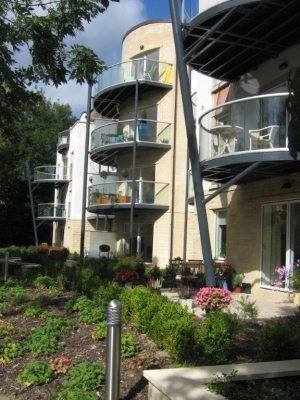 Lower Dee Mill, Mill Street, Llangollen comprises of forty two apartments and was completed in 2007 and was our first development in Denbighshire.
Llangollen is an extremely desirable, vibrant and artistic town where little development has taken place in recent years, we were very lucky to acquire the site in this fabulous riverside location overlooking the River Dee.
The sites previous uses vary greatly, it started life in the early 18th century as a Cotton Mill, and was then split in two by the trackbed of the Llangollen - Wrexham Railway line. Most recently the site was occupied by Dapol, who had a 2 pronged business; they manufactured model trains for their main business which relocated to Chirk. The other part of the business was the Doctor Who Experience by which time we had possession of the site in 2005, had experienced a resurgence with the first new series in over 25 years been screened by the BBC! It must be pointed out that was not our purchase of the site that brought about the closure of this Doctor Who Experience, the franchise had previously ended and the BBC did not want to extend the license but did want all their costumes back.
The Lower Dee Mill scheme comprises of 2 apartment blocks, named simply the Riverside Block and the Roadside Block; the Roadside Block encompasses 12 apartments. We worked very closely with Tai Clwyd Housing Association who purchased 4 units for rental to over 55 year olds and they assisted us with the sale of the other 8 units at a discount from market value to local people, who would not otherwise have been able to purchase at full market value.
The Riverside Block comprises of thirty apartments served from three common areas, all of which have large balconies or patios which immediately overlook the River Dee. This block is served by lifts, has the highest quality, most sumptuous common areas and very spacious, high specification apartments.
This scheme has been so popular that we believe that prices have not fallen in the credit crunch, indeed two valuation surveyors who were acting for second time purchases of two of the apartments informed us in 2009 that they believe that values were higher in 2009 than 2007!
We believe that Lower Dee Mill is the best and most desirable apartment scheme of its kind in the whole of North East Wales. Lower Dee Mill was completed in 2007.
Westminster Rise – Summerhill, LL11 4QE
Westminster Rise, off Top Road, Summerhill near Wrexham comprises twenty nine traditional family homes including our most popular house types. Westminster Rise has spectacular views, even the Runcorn Bridge can be seen on clear days. The area has a rich industrial heritage where one of our tasks was to cap the Westminster No 1 shaft; one of the largest mineshafts in the whole of Wrexham! The site was completed in 2006.
Please click an image below to enlarge:
Caxton Place – Wrexham, LL11 1PA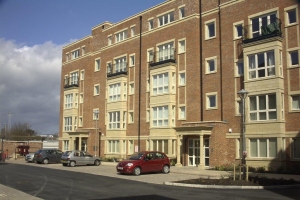 Caxton Place, Regent Street, Wrexham is the first purpose built quality apartment scheme in the town. Comprising of seventy apartments in 3 blocks, it is conveniently situated on the edge of the town centre, also next to the Wrexham General Railway Station. Caxton Place is without doubt our flagship development.
Caxton sold out in a matter of months during 2005 proving very popular with the local purchasers, both owner occupiers and investors. Indeed many of our investor purchases had bought from us before and have done so since.
Prices have held up extremely well since the recession started because of the quality of the design and build. Also the local agents have reported that all rental apartments in the scheme are consistently fully let and for most of the last few years there has been a waiting list of tenants to rent the apartments such is the desirability of the scheme. Caxton Place was completed in 2006 and looks even better with the passing of each year.