Previous developments
Walnut Court, Stansty Road, Wrexham LL11 2BU
Walnut Court was a brownfield site of 24nr 2 and 3 bedroomed homes.
Despite the surrounding area being developed with railway lines, light industrial use and steady expansion of residential use in Rhosddu, the site itself was largely undeveloped until the building of a GPO building in the 60's. More recently it served as a car park for the nearby Gym but lay derelict for a number of years through the recession and credit crunch.
The difficulties with this site lay in developing the site with some quite involved infrastructure works, on a busy junction, and maintaining through access to the now reopened gym, which was achieved without complaint or issue. This is a testimony to the Gower Homes considerate approach when developing sites.
As a location for starter homes, this site is ideal, with town centre, schools, colleges, university, new retail development, hospital all within comfortable walking distance. Sporting interests are also catered for with gym, Wrexham Football ground, University sports facilities and tennis centre also within a stone's throw. The Wrexham train station has links to all major destinations, with convenient access to the A483 and bus stop immediately adjacent to the site.
The homes themselves are from the Gower Homes tried and tested range that have proved popular and comfortable for many satisfied customers over the last 30yrs. Ranging from 2 bedroomed Kendal terraced/end terraced houses to the 3 bedroomed Durham Hampton semi-detached homes.
Please click an image below to enlarge:
Burton Rise, Acrefair, Wrexham LL14 3SE
Burton Rise was a brownfield site comprising of 7Nr 2 and 3 bedroom homes.
This development was phase 2 of the successful Orchard Rise site, and now nestles very comfortably in it's surroundings, and betraying the previous industrial heritage of this site and locality. Compare the photograph below showing the railway bridge and line that towered above the road, crossing at this point, with the pleasant surroundings of a landscaped bank and small areas of woodland flanking 3 sides.
Burton Rise is surrounded by great places of cultural, historic and leisure interests, including Froncysyllte aquaduct, Llangollen, with working steam trains & Eisteddfod Royal International Pavillion, and some fantastic scenery in the hills of Panorama and The Berwyn's
The homes themselves include The Kendal and Durham, two of Gower Homes' most successful cost effective 2 and 3 bedroomed homes. Ideal starter homes with parking serving the village of Acrefair well, and transforming a previously derelict brownfield site.
Every Gower Home has been delivered by a core team of staff who have been with the company for many years, some since the company's formation 27 years ago.
Burton Rise is Gower Homes' 10th consecutive brownfield site development and yet another testimony of how we have worked in partnership with the Wrexham CBC, Denbighshire and Flintshire has contributed to Urban Regeneration within the region and won the LABC awards for quality in 2017.
Working closely with the Local Authority, Gower Homes obtained planning permission back in 2010 but for viability reasons delayed the development until 2015/2016. The biggest challenge was the excavation and disposal of over 10,000 ton of redundant Llangollen to Wrexham railway embankment to achieve a sensible site level. In addition, the ground conditions dictated raft foundations and time was wasted in the search for a non-existent mineshaft.
Burton Rise has proved very popular with local first time buyers, and these same housetypes continue to serve the company well on other sites.
Please click an image below to enlarge:
The Sidings, off Railway Road, Stansty, Wrexham LL11 2DN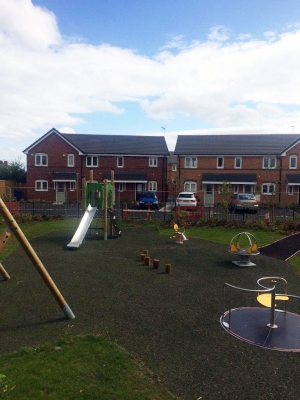 The Sidings, off Stansty Road Wrexham was a brownfield site of 48 Number 1,2 and 3 bedroomed houses which proved very popular with first time buyers and investors. This redundant brownfield site was previously old railway sidings until the 1960's, and more recently home to the local Remploy factory who moved out in 2012. We then purchased the site and obtained planning early in 2014 and were on site in the Spring.
There was huge demand for the houses and we sold the first twenty houses off plan pre construction commencement.
In partnership with Grwp Cynefin Housing Association and Wrexham Council, we delivered 12 affordable homes which proved very popular with local people. The local councillor was very supportive of our scheme generally and took a particular interest in the affordable houses and the children's playground that we built on site. We forged strong links with the local community, including a partnership with Rhosddu Junior Football Club by way of our shirt sponsorship.
The Sidings was a terrific site for us and construction was completed in Spring 2016. We enjoyed the sidings so much that we purchased the site just 100mm across the road – the northern part ot the Total Fitness Gym car park, which we have renamed Walnut Court which is featured in our current development section…..
Westminster Rise – Summerhill, LL11 4QE
Westminster Rise, off Celtic Road, Summerhill was a small select brownfield development of just 24 starter and family homes. Westminster Rise was a fascinating site in many ways; there were a number of technical hurdles to overcome including excavating rock to form the foundations, the capping of a mineshaft (there are many throughout Wrexham), and the demolition of a ventilation shaft 2.0m in diameter, of a depth of 4.0m below ground level that ran across the site which used to ventilate the number 1 shaft of the Westminster Colliery.

Westminster Rise was one of the many victims of the banking crisis/credit crunch, we did want to start this development in 2008, but due to our banks withdrawing support we were unable to start until 2012. This site proved very popular and was completed in 2013.


Please click an image below to enlarge:
Greenbank Court - Wrexham, LL13 8DX
Greenbank Court is an urban scheme on the edge of Wrexham Town Centre conveniently located within a short walk of the very impressive Eagles Meadow Retail Development. Greenbank Court is another brownfield site, formerly an old gas works site now transformed into thirty one 1, 2, 3 & 4 bedroomed town houses all with generous gardens.

Greenbank Court sold out in a matter of months and was extremely popular with both owner occupiers and investors, many of whom having bought from us previously.

In partnership with Wales & West Housing Association and Tai Clwyd Housing Association 8 of the properties were affordable homes for rent, which enabled 8 local families to access new rental properties which otherwise would have been out of their reach.

This site was completed in Spring 2012.

Orchard Rise – Acrefair, LL14 35E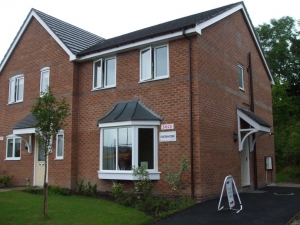 Orchard Rise is located just off Llangollen Road, Acrefair, near Llangollen. It comprises of twenty traditional 3-4 bedroom family houses using our most popular designs and was recently completed in the spring of 2011. Orchard rise is located on land purchased from the Wrexham Council which used to be part of the Acrefair CP school site and immediately to the rear of the site is the old trackbed of the Llangollen to Wrexham Railway which was dismantled in the 1970s.
Victoria Gardens – Wrexham, LL11 1EF
Victoria Gardens, off Gerald Street in Wrexham is a very interesting site in many ways. It was completed in the spring of 2010 and comprises of twenty two family houses, built in the style of Grand Victorian terraces which are prevalent in this part of Wrexham. Victoria Gardens is well located, just 5 minutes walk away from the town centre, also immediately adjacent to the historic Wrexham General station, Grosvenor road and Wrexham's Business district.
The most interesting feature of the site is the pond, or better known locally as the 'Witches Pool, it was rumoured in Medieval time that local woman suspected of being witches were tested out at this pool; if they remained afloat this confirmed that they were a witch and if they sank and drowned they were deemed to be not a witch, which was a little too late!
We worked very closely with Wrexham Council's Ecologists and Tree office to preserve and enhance the pond before and during the Construction phase as well as protecting and enhancing the mature trees on site, some of which include very impressive and rare species.
Another interesting feature of the scheme was that we encountered substantial opposition to development from a very small group of six to eight local residents. There were features on the Welsh news and over sixty letters of objection published in the local newspaper and even our eminent local MP PR John Marek (who normally exercises sound judgement) spoke out publically against our proposals. The main aim of the action groups was to 'save the witches pond' which was odd because that was precisely our number one aim!
Visitors to the site now must wonder what all the fuss was about, as the site is extremely tranquil, the trees have been protected and the pond enhanced and is now open to the general public to enjoy for the first time in decades.
Rivulife – Wrexham, LL13 8PQ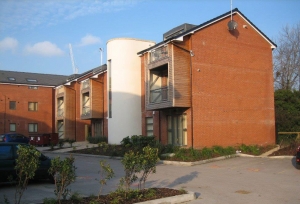 Bentley Place off Rivulet Road in Wrexham is a very contemporary apartment scheme which is just a seven minute walk from the Eagles Meadow complex and the town centre. It is similar in concept and is also modelled on our 2003 Rossall Court Scheme. Rivulife proved to be a very challenging site as it was previously used as a scrap yard with the River Gwenfro forming one of the boundaries. The site has now been transformed into a quirky development comprising of forty eight apartments, mainly 2 bedrooms.
Rivulife proved to be very popular with local investors and owner occupants, its close proximity to the town centre ensures considerable rental interest, at times with waiting lists building up. Rivulife was completed in 2008.